Tripawds is a user-supported community. Thank you for your support!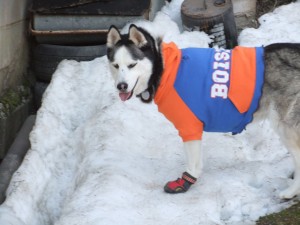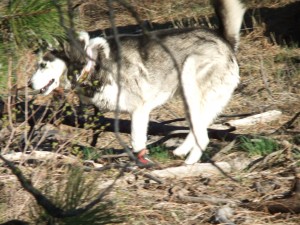 Mom took me and my sister Shadow up to the cabin last weekend. I showed her how good I was doing. I was running up and down the hills like a crazy girl and even digging after ground squirrels! You should have seen all the humans looking so shocked that I can still dig – don't they know how much I love it? Mom made me wear that boot, but I showed her and got it all dirty! It didn't slow me down one bit. I can't wait to go again, maybe the lake will have water. I've never been a swimming dog but I like to splash and drink lots!
I also got a new shirt to wear as mom was concerned I might fall and hurt my stump. It's a good fit but it is kind of heavy so she promised to find me a lighter weight one so I don't overheat. I hope it's camo so I can sneak up on all the ground squirrels!